Who We Are
About Sarah
Sarah Froio has a long history of involvement with anti-poverty programs. But this work took on new meaning in 2011, when she met Pat and Colleen and was introduced to the amazing community of people who spend their days and nights on the streets of Harvard Square. Years of working with the folks on the streets—sharing in their lives; visiting them in the hospital, in rehab, and in prison; and listening to their stories and hopes—has inspired a deep passion and commitment to creating better solutions in a system that too-often fails its most vulnerable members.
Having grown up in the middle of a Connecticut dairy farm, Sarah still has dreams about chasing rogue heifers in search of greener pastures. The more she learned about the challenges faced by people struggling with substance abuse and homelessness, the more she recognized the powerful impact that the healing environment of a residential farm could have in turning a life around. Sarah hopes to use her years of experience in helping others to navigate the criminal justice and rehabilitation systems, along with her professional background and degree in business administration and entrepreneurship, to build a sustainable organization that will combine the peace and simple joys of farm life with efficacious rehabilitation services. And she hopes that you will join her as she makes the dream of PraeSpero Farms a reality.
---
Our Board
Jeanne "Gia" Bartolomeo, board treasurer, enjoyed a 22-year career in information technology providing business systems analysis, training, teaching, and technical service management, culminating with a Vice President position at a large Boston financial services company. In 2001, she left the corporate sector, serving as a 7th and 8th grade teacher until her retirement. Since then, Gia has been a part-time bookkeeper/finance manager for non-profit corporations, and she volunteers as a doula and new doula mentor. In addition to her service on the PraeSpero Farms board, Gia is currently a board officer with Ruth's Reusable Resources and with Community Doula Birth Program. She formerly served on the Blue Heron School of Maine/Aucocisco School board during their transition from private to non-profit. Jeanne enjoys spending as much time in the outdoors as possible with her grandchildren, Bear and Piper. She currently lives in a stone cottage with two cats, Weon and Coco, and has raised many pets including her favorite … ferrets!
Robin Cross, board president, is committed to assisting others heal from childhood trauma, and the deep, painful psychic scars and self-destructive behavior associated with childhood abuse and neglect. She has sought to accomplish this by working as a prisoner advocate as well as facilitating group therapy sessions. Robin is a retired attorney who helped create a Massachusetts Bluebird nonprofit organization, serving on the board of that group. Robin has always worked to foster social justice by representing hardworking union trade folks who were occupationally exposed to toxic substances such as asbestos. In that capacity, she sought to hold the manufacturers of these products financially accountable to those harmed. Robin is enjoying her retirement living in Watertown Square with her rescue cat, Oliver, and Beta fish, Mr. Darcy. She is an active volunteer at her Arlington church.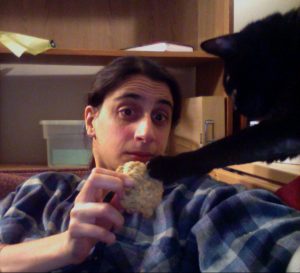 Suzanne Grubb, board clerk, is an information management geek who wants to save the world through nonprofit innovation. She has over 10 years of experience launching new projects for startup and nonprofit organizations, including building a Clinical Research Education Library for the American Speech-Language-Hearing Association and developing the National Resource Center on Nutrition and Aging as an Assistant Vice President at Meals on Wheels America. She is also a longtime volunteer with the IRS VITA program, serving as a site coordinator and tax preparer for free low-income tax clinics. Suzanne and her cat are relatively recent transplants to Massachusetts, where she is having fun discovering new hiking trails and finding creative uses for her farmshare vegetables.
---
PraeSpero Helpers
Many thanks to the volunteers and contributors who share their time, expertise, perspective, and technical skills with the PraeSpero Farms project.
Lara Cameron
Sam Froio
Caroline Olson
Dwight Porter
Lily White
---
Special Thanks To
Alice and Tim Colegrove
The Conway Family
Amy Delamaide
Gail Dorey
The Faherty Family
Frank and Becky Guerra
Claire and Bob Keaney
Joanna Levy
The Olson Family
Jennifer Peck
Natalie Rocha
Viv Swoboda
Renee Vigoroso
Norene Whiteley
John and Mike
---
And Thank YOU!
Thank you so much for your interest in making PraeSpero Farms a reality! If you are interested in volunteering your skills, expertise, or time, please check our How to Help page.
---